The Private Health Insurance Administration Council (PHIAC) is an independent Government organisation that oversees and regulates the private health insurance industry. It gathers information from all funds and all payments that are made through 'extras' or ancillary payments.The following statistics are available on the PHIAC website.
The trend over the past few years is continuing at a rapid rate. Amongst osteopathic communities it has been well known that the profession has gained wider acceptance as more patients have had the opportunity to experience the profession and as more clinics are opening throughout Australia. It is finally being expressed in solid research and facts.
According to PHIAC, the number of people choosing to visit an osteopath has increased by 48% over the last two years (June 2012). As a comparison, other manual practitioners such as chiropractic and physiotherapy increased by only 7% and 11% respectively during this time period. The rate of popularity and growth is a credit to all dedicated osteopaths with ideals in advancing quality of patient care and professionalism.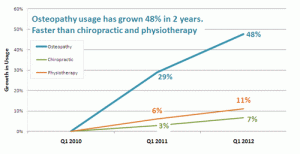 The statistics become more interesting the further you look into them over a longer period of time. Osteopathic treatments have increased 270% since 2005 further attributing to its rapidly growing popularity. Compare this to other health professions and you can see the difference is quite significant.